Membership rates for 2022 can be seen on the registration portal. While some of these rates are unchanged from previous years, there are notable increases, parent registration is now mandatory, and we are collecting a levy through the registration process. This page explains why.
Why have certain rates changed?
Our goal, for One Club Douglas, is to have membership rates for all members that:
are agnostic of gender – the same price for a female as per male
offer equal access to both gaelic codes

all male players have always had the option to play either or both of hurling and football, through a single membership of the GAA club
whereas, in previous years, a female player who wanted to play both camogie and ladies' football would need to join both the Camogie and LGFA clubs

remove the hidden charges associated with rental of pitches at Douglas Community School and Redmonds GAA – this fell exclusively to (parents of) female players, as it was the Camogie and LGFA clubs that rented these facilities
We have chosen membership rates that we think will enable these goals.
How were the new rates calculated, and how will they enable the goals?
The rate per juvenile or student is set at €80

This was the rate for an individual GAA juvenile or student in 2021.
This is cheaper than the cost of 2021 registrations for females that played both camogie and ladies' football.
While it is an increase on the rate of an individual female that played only one code last year

they have the option to play both codes now
there will be no more €2 and €3 collections, per session, at Douglas Community School and Redmonds GAA

Parent membership is mandatory, and set at €30, which allows all families to share certain playing-related overheads, including significantly

rental of pitches at Douglas Community School and Redmonds GAA – previously covered by just those teams that train there instead of in Douglas GAA club (€2 and €3 collections, per session)
any per-player overheads (considerable, and outside of our control) that are associated with females that take the option to play a second code this year

We have discontinued the practice of offering a discount for multiple juveniles & students

which will, in effect, be achieved through the afore-mentioned parent membership (once per family) and the club development levy (once per household).
Club Development Plan Levy
We are collecting a Club Development Plan levy through the registration process
This will be ring-fenced and dedicated to the development of the club's facilities for the benefit of our current and future members, which ought even to lead to cost savings for the club and its members.
Read more at https://douglasgaa.com/our-club-development-plan/
How many levies do we need to pay?
I have received questions from both
non-family who live in the same house
family members who do not live in the same house
asking whether they need to pay one or multiple levies. The answer is consistently "That is up to you. When we know how many levies we have collected this year, the committee responsible for club development will have to decide whether they need to do extra fund-raising or defer certain planned developments."
Breakdown, for juveniles
This graphic summarises the cost for juveniles. We hope you'll appreciate the value for money.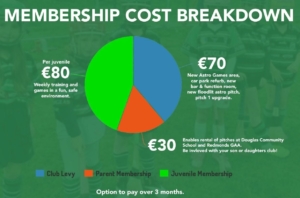 Not everybody can pay
We understand that not everybody will be in a position to pay the additional costs this January, so we offer two options to those that cannot:
We now accept payment in three equal instalments – on the day of registration, one month later, and one month later again
Understanding what these extra charges are for, and how they will be spent (and may even save you money this year), discount coupons can be issued. Please request one through your head coach or a committee member, it will be issued discreetly.
Need more information?
Thank you for reading. Please address any queries to your club registrar: