One Club Douglas
(GAA LGFA and Camogie)
Summer Camps 2022
Ryan's Supervalu Grange
Our clubs are very grateful for the support of Ryan's Supervalu Grange who are sponsoring our 2022 Summer Camps and we ask all our members to support them as a main sponsor of our club and camps.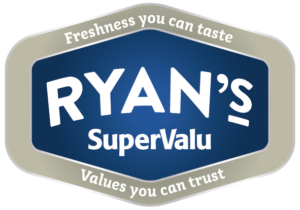 Fun Camps
Douglas Fun Camps are open to all primary school boys and girls in the local area – between the ages of 5 and 10 – with a fun-filled week providing games based activities aimed at enhancing and building friendships and revolves around maximising enjoyment and sustaining participant involvement in Gaelic Game in the local community .
Skills Camps
Douglas Hurling /Football/ Camogie / LGFA skills camps are player focused camps working on skills of the game through games based learning . It is a fun based age appropriate training camp and is focused on kids/teenagers from 11-15 years of age and works on skill development , athletic development and health and lifestyle development through games/challenges.
Dates & Booking Link
Our new Games Promotion Officer Gavin Webb will be running the following camps during summer 2022
SuperValu Fun boys & girls GAA/Camogie/LGFA camp                 Ages 5s-10s July 4th-8th
SuperValu Fun boys & girls GAA/Camogie/LGFA camp                 Ages 5s-10s July 11th- 15th
SuperValu Skills boys HURLING camp                                               Ages 11s-15s- July 19th-21st
SuperValu Skills girls Camogie                                                              Ages 11s-15s-July 26th-28th
SuperValu Skills boys Football camp                                                   Ages 11s -15s-August 2nd- 4th
SuperValu Skills girls LGFA camp                                                        Ages 11s-15s- August 9th-11th
Click HERE to book a camp
Gavin Webb Bio
We are delighted to announce Gavin Webb is our new Games Promotion Officer (GPO) who will work with children in our local schools as well as with coaches in improving coaching standards in our club. This is a significant step forward for our clubs, and we are the first in Cork to employ a full time GPO
Below is Gavin's bio.
December 2012 I completed my Recreation and Leisure (BBus) and Bachelor of Business (Honours) in Cork institute of  Technology.  This has given me a range
of practical capabilities . It has also provided me with the qualifications and understanding to work on, not only specific game skills, but also on fundamental movement, co-ordination, strength and flexibility of all age groups.
I have also attained Foundation, Award 1 and Award  2 GAA Coaching Qualifications .
Following on from completion of my full time studies I worked  a Special Needs Assistant.  I found this role both fulfilling and rewarding.  It expanded my skills range and allowed me to work with students of all abilities and needs.  In 2015 I took up a role as a schools coach with Rebel Óg and this allowed me gain extensive experience and build strong  relationships with numerous Games Development Administrators/Officers throughout the county.
I have co-ordinated numerous camps in different locations throughout the county and have been commended on my attention to detail and execution of both a safely run and most importantly FUN camp.
I have been involved in a number of Cork underage Hurling squads and have been very lucky to work and learn from some top level players/coaches/managers.
To date I have been a trainer in over 20 schools throughout the Cork region, both Primary and Secondary. Within these roles for each school I have organised and co-ordinated end of year fun blitzes and mid-term blitzes in both hurling and football codes.
From 2020 – 2022 I have been self employed as a schools and club coach with Courcey rovers GAA, Kinsale GAA and Sliabh rua GAA, while also providing workshops for numerous clubs throughout the county and also working in Coláiste An Phiarsaigh, Glanmire as Secondary school Hurling/Camogie Coach.
I  have always been commended me for my high level of interpersonal skills and, in particular, my ability to engage with and motivate students of all different abilities and ages. I believe strongly in the full inclusion of all students/players and continually emphasise the importance of taking part rather than focusing on winning or losing.  Participation and retention of those participants have and always will be a driving force in my coaching ethic.