Phase 1
Our GAA, LGFA and Camogie Clubs proudly marked the completion of Phase 1 of our Club Development Plan
with the grand opening by An  Taoiseach Micheál Martin of our new Astro-Ball wall-games area, refurbished Clubhouse ,new club shop, resurfaced and lined car park .
We wish to thank all our members who generously contributed to  the WinaGaff fundraiser and Membership Levy, without which the Phase 1 dream wouldn't have been a reality. THANK YOU.
Phase 2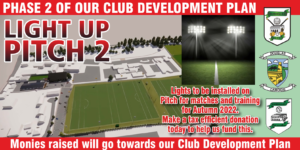 In 2020 we surveyed members and 260 of the 300 respondents said at least one flood lit pitch was their top priority to facilitate training/ matches to 9pm during March, September and October and negate the need to hire external grass pitches.
We have historical planning for 500Lux lighting levels on Pitch 2 and 300Lux on Pitch 1, and an average of   of 350Lux is recommended to play hurling matches whilst 300Lux would be ok for Football. For this reason the Games Committee chose Pitch 2 as the most suitable pitch to install the lights as it can be used for both Hurling and Football.
Our plan is to have the lights installed by the start of 2023 season and we are currently seeking donations to fund this project using our Tax Back Donation Scheme.
Light up Pitch 2-Tax Back Donation Scheme
We have successfully registered for the Revenue Approved Scheme on donations to support capital projects such as is proposed. Under the Capital Donations Scheme a donation from a PAYE taxpayer is enhanced by an additional payment which the club receive directly from Revenue.
Alternatively, if you are a self-assessed/self-employed taxpayer you can claim a tax deduction for the donation that you make to the club under the scheme.
By availing of the Revenue approved donation scheme the cash benefit of your donation can be increased by up to 66% for PAYE Taxpayers or if you are self employed your donation is fully tax deductible.
If the total of your Donations exceeds €250 in the current year then your total donations may benefit from additional tax benefits. If you choose to make recurring donations it should be noted that the selected donation amount will be collected for a total of 5 months. eg a €50 recurring donation will equate to a total donation of €250.
Our fundraising target is €100k which we will use in conjunction with the Flood Lighting portion of Sports Capital Grant to fund the project.

In order to avail of the tax benefits we are seeking some personal information. These questions are not mandatory. If you have any questions please contact Greg McGinn on 087 790 4315 .