After a two year break our Street Leagues Finals Day is back.
Loads of fun and refreshments for all the family.
Music by Douglas Comhaltas
Hotdogs by O'Flynns
Pizza by Apache
Tea & Coffee by Lulu
Ice Creams by Glanmire Ices
The official launch of our new Club Development Plan will take place at 12:00pm .
The Club Development Plan Working Group was made up of representatives from Douglas Hurling & Football, Douglas Camogie and Douglas Ladies Gaelic Football Clubs. As you know this is the first Club Development Plan that has been developed by the Clubs so Saturday's launch is obviously a significant milestone event.
You are cordially invited to attend Saturday's formal launch, which will take place adjacent to the Club Shop.
Hope to see you on Saturday @ 12:00pm.
You can also buy Win A Gaff tickets on the day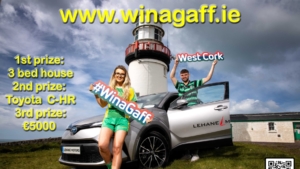 As you know, we are currently promoting and selling tickets for our Win A Gaff competition. We are now approaching the final quarter. From this point, we really need all hands on deck and all members to come together to help reach the final goal. The proceeds from this initiative will fund Phase 1 of our Club Development Plan that will benefit our Street Leagues kids, our community, and our future.
If you would like to buy a ticket now please click this LINK
By bmconsultingcork
Fri 8th Oct