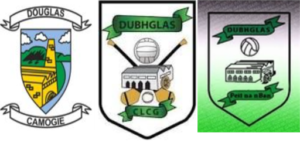 In 2022, for the first time, all three Douglas gaelic clubs are pleased to offer registration through a single registration portal. This is a significant step on our journey to operating as One Club; other changes will become evident as the year progresses.
You may notice that the subscription rates have changed. The new rates have been chosen to – as best we can tell – cover the costs of renting pitches at Douglas Community School and Redmonds GAA. This will put an end to the practice of collecting €2 or €3 per session on those pitches, which has been imposed on LGFA and Camogie members before now. (All teams will continue to subsidise rental of other facilities, typically during Winter.) It will also allow for girls and ladies playing one code only (ladies' football or camogie) to have the option to play the other without taking a second membership; this is something that we have taken for granted in the GAA club, and it is only fair that the same opportunity be extended to the females.
GAA Club Registrar's Report now available for 2022: Click here.
The link to the registration portal is below. Before you go there, it is important that you understand certain things, some of which are relevant to each of the clubs you are joining.
To Register…
Do not attempt to register through Foireann – this is not supported by our club. We only support registrations through Clubforce, using the link provided below.

i.e. please ignore the big blue "REGISTER NOW" button on Foireann

You do not need to create an account on Clubforce; you may log in using your google or facebook accounts, or even by SMS
Please be advised…
Club members may be photographed by the club during training/matches/club events, for promotional use on the club's website, newsletters or other literature, according to the GAA guidelines. If you do not agree to this photo consent, please do so via your Foireann profile, and make sure to tell your coach.
Volunteering is at the heart of Douglas GAA Club, top to bottom. We are equal-opportunities, and wish to ensure a gender balance in this regard, particularly in coaching at Street Leagues.

Please reach out to your head-coach and let them know if you would like to help coach the players of tomorrow.
Or use the question in the registration form to tell us if you have a skill that we might avail of should the need arise.

Playing membership plans

Juvenile membership applies to boys and girls not yet 18 on 01/01/2022.
Students are 18 or over on 01/01/2022, and in full time education (second- or third-level).
Adult Players are 18 or over on 01/01/2022, but not in full-time education.

Registered membership for parents/guardians is bundled with Juvenile memberships. For €30, you may register one or both as full members of the club.
Registered membership is required for all coaches and committee members. Please note that all parents/guardians will already have this, so no additional membership is required.
A €70 levy will be applied to all registrations. It will be applied once per family (regardless of how many members are being registered at the time). This is necessary to fund our Club Development Plan.

See more about the club development plan at https://douglasgaa.com/our-club-development-plan/.
To avoid over-paying (for parents/guardians, and the levy), it is advisable to register all family members in a single registration; otherwise, the parents/guardians registration will be added every time a Juvenile is registered, and the levy will be added every time one or more members are registered.

This year, an option is provided at the payment stage to pay in three monthly instalments.
However, if the rates and levy are such that you cannot pay (in one payment or three instalments), please reach out to your head coach and request flexibility. They can pass on the request to the relevant registrar.
See our membership rates for 2022 explained at https://douglasgaa.com/2022-rates-and-levy/
General terms and conditions
As a rule:
Players will not be covered by insurance or "Player Injury" schemes until they are registered with GAA, Ladies Football, or Camogie associations, and therefore should not train or play until such time. Your registrars will not process your registration into Foireann (the national database shared by the GAA, LGFA and Camogie associations) until your subscription is paid.

As registrars work on a voluntary basis, it may take days or even weeks to process registrations (early in the season; and longer later). Your best bet is to register early.

This year, we are imposing a levy on every household. We recognise that €70 is a significant overhead for any family, but every euro will go to the development of club facilities (pitches, floodlights, carpark, etc.) for all members in the years ahead. Find out more at https://douglasgaa.com/our-club-development-plan/
We are offering an option this year to pay in instalments. If you select this option at payment, payment will be taken from you in three equal payments, one month apart, starting at the time of registration.
If you have any questions, please email the registrar for your club (see below).
Non-player registration
Non-players (only) may register using this paper form (also available behind the club bar), making payment through the club bar. If more than two members are being registered in one submission, please include multiple forms.
Terms and conditions of each local club
---
GAA (hurling and football)
Address queries to registrar.douglas.gaa@gmail.com
Code of Conduct
The GAA club's Code of Conduct is available here.
Injury Cover
The GAA Injury Benefit Fund does not seek to compensate fully for Injuries sustained but to supplement other Schemes such as Personal Accident, Income Protection, Private Health Insurance for example. The playing of Gaelic Football, Hurling, Handball and Rounders' involves the risk of Injury and it is each individual registered player's responsibility to familiarise themselves with the terms and benefits of the GAA Injury Benefit Fund. The Injury Benefit Fund only provides cover for unrecoverable losses up to the limits specified.
We strongly advise every member should familiarise themselves with this document. Please note that the enclosed is a GAA Injury fund & as such it's not a fully insured arrangement. Typically the benefits are reviewed on annual basis & are subject to change. Whilst the benefits are welcome please note the following
All injuries must be logged within 60 days of the event & it's the sole reasonability of the player/member to properly advise Team Management or an Executive officer of the Club within this period (there are no exceptions to this timeline).
First €100 of expenses are not applicable.
Physio benefit is post-operative & capped at €320
Surgical benefit is capped at €4500.
Dental Repair Benefit is capped at €4500.
Loss of wages is capped €300 per week FOR 26 weeks in total.
Any cost incurred must initially be paid by the injured player/member & subsequently claimed back via the fund(from experience there can be time delays).
Any cost incurred above the amount of benefit named in the booklet is the sole reasonability of the injured player/member & is not covered by Douglas H&F Club.
Based on the above its fair to say ideally it's our view that Private Medical Insurance should be the default arrangement of any player/member where possible.
In summary, the GAA Injury Benefit Fund is in place to cover benefits which cannot be claimed elsewhere. Therefore, if a claimant is seeking to claim benefit from the fund, they must exhaust all other avenues before making a claim under the GAA Injury Benefit Fund. Furthermore, the Injury Benefit Fund should not be used as a guarantee for the payment of expenses. Ultimately, the responsibility to ensure that adequate cover is in place lies with the individual member, commensurate with his \ her specific needs and members should not use the fund as their only recourse or be dependent on the fund to compensate them fully for any losses associated with the injury sustained.
---
LGFA (ladies' football)
Address queries to registrar.douglas.lgfa@gmail.com.
The LGFA Injury Fund is an injury fund, set up to assist members with some reimbursement for medical expenses incurred due to an injury sustained during ladies gaelic football.
It is NOT an insurance policy. There is no insurance company involved in any way with the Fund and therefore there is no insurance policy number associated with the LGFA Injury Fund.
---
Camogie
Address queries to registrar.douglas.camogie@gmail.com.
Douglas Camogie Insurance is provided by Allianz PLC
It is paid at point of registration.
A table of cover can be seen here.
All injuries must be reported immediately and submitted within 30 days using the camogie registrar's email. A claims form can be found here.
---