Douglas GAA Car Park
The car park is free and has 80 spaces. The barrier is closed Mon-Fri until 5pm and is open at all other times. It can be used as a drop & go or drop & stay option. Bear in mind during peak times, especially Saturday morning and Tuesdays & Thursdays evenings, Galway's Lane and the club gets busy, and we recommend using one of the external car parks.
St Columba's Boys and Girls Schools
The car park has 120 spaces, we have an arrangement in place with both schools and parking is free of charge.
The following is the  schedule for opening and closing the gates to the school during the playing season.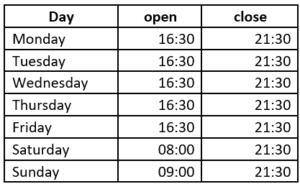 The following 2022 winter schedule is effective from 08/11/2022
Mon, Tues, Wed, Fri, Sun :Don't open or close the gates to the school or Pitch 1,2,Basketball court
Thursday leave schedule as is 16:30 to 21:30
Saturday Open at 8am and close at 4pm
Please bear these times in mind to prevent your car being locked in.
There are three pedestrian gates to the club ,one takes you to our own car park, a second takes you directly to Pitch 1 and the third takes you to Pitch 2 from where you can also access pitch 3 & 4
We ask all our members to respect the schools property at all times ,to only park in designated parking spaces and to absolutely never park on kerbs or the grass. 
St. Patrick's Woollen Mills
This car park is a 5 minute walk to the club, the charge for this car park is €1.50 per hour, it is operated by APCOA and parking by app can be used. This is a Drop & Stay option at times when the club or St Columba's are very busy.
Bean & Leaf 
This is paid parking suitable for Drop & Stay at times when the club or St Columba's are very busy. Please note the pedestrian entrance to the club is closed until October 2021 for clubhouse refurbishment work and so the walk is 5 minutes plus, in through Galway's Lane.